ESADE Business School
The Esade MBA forges next-generation leaders with the courage to ask difficult questions. Disruptive thinkers who don't just adapt to change, but drive it. Who open a path that others can follow. Creactivists – creative activists – with the flexibility to find insights and the rigour to deliver results. A different kind of learning experience that will amplify your talents, expand your abilities and accelerate your career.
You will learn to be a creactivist by focusing on the 4Cs of core skills and competencies: Critical Thinking, Creativity, Collaborative Leadership and Communication Skills. You will develop them during the first three terms of the programme. Each of them covers a cluster of related subjects that move you closer to your goal – expanding your awareness, developing your creativity and strengthening your power to transform.
Besides, The Esade MBA is designed for maximum flexibility. You can tailor the programme's length, contents and focus so it is always a perfect fit for your goals.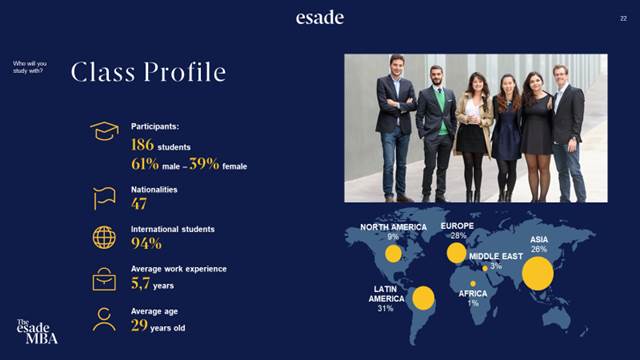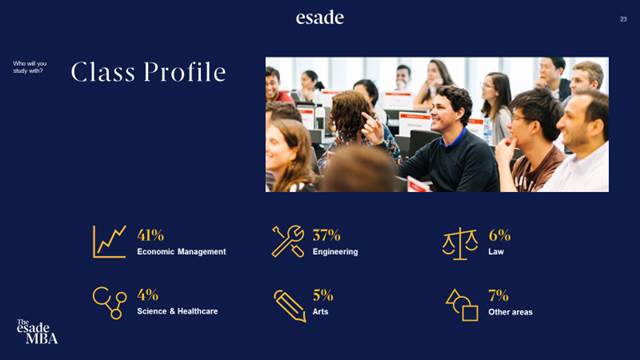 ESADE Full-Time MBA News
Founded in 1958, Esade Business and Law School has campuses in Barcelona and Madrid. It also has collaboration agreements with over 100 universities and business schools worldwide. Each year, more than 11,000 students participate in courses at Esade (MBA and Executive Education, as well as bachelor's and master's degree programmes in business and law). With a clear international outlook, Esade consistently ranks near the top of the main global business-school rankings. The Barcelona - Sant Cugat campus is also home to Esade Creapolis, an innovation business park where the university and business communities come together. Esade currently has a network of over 50,000 alumni occupying positions of responsibility in enterprises around the globe.
Message from the Dean of the Business School Josep Franch
"Esade Business School has a three-fold mission to improve skills and knowledge through training, conduct rigorous research that leads to advances in the various diciplines which make up the field of management, and contribute to the transformation and improvement of organisations to promote greater social welfare. Training, research and transformation are the axes around which the main activities of the business school turn, and each of these activities are conducted with the aim of contributing toward collective processes"
Esade Location
Executive MBA - EMBA Overview
The ESADE EMBA experience: a unique and prestigious education
Deciding to go for the Esade Executive MBA is deciding to study and learn at an institution with over fifty years of experience whose characteristic hallmarks have set it apart since its foundation. 
The Executive MBA at Esade is a demanding, academically rigorous programme designed to strengthen your leadership and management skills which combines education in Barcelona or Madrid with study periods at prestigious universities abroad. 
Our goal? That your Executive MBA translates into a vital and qualitative change in your professional career.
Earning your Executive MBA from ESADE means participating in one of the best existing programmes today at one of the best business schools in the world: ESADE is among the top ten business schools in the world according to the leading rankings, and its name has become synonymous with excellence and quality.
The Executive MBA is a 20-month programme that takes place over four separate phases:  
PHASE 1. AWARENESS
Discover the trends, the big picture and the key elements that are transforming the world – and build the selfawareness to become a better leader.
PHASE 2. BUILD
Learn the frameworks and tools that will help you to define new and innovative value propositions.
PHASE 3. CONNECT
Understand the key components of business ecosystems and how they work together.
PHASE 4. DECIDE
Gain further in-depth knowledge in the areas that interest you most, plus international experience (International Exchange)
The G Factor:
The EMBA includes four journeys that cover all subjects throughout the programme. They focus on developing specific skills that will allow you to add value and stand out as a manager.
Guiding: Leadership Development:
Reflect, learn and act with increased self-knowledge in order to become a better leader.
General management skills:
Develop essential soft skills including negotiation, influence management and communication.
Growth mindset:
Learn to see growth opportunities and leverage your creativity and innovation skills.
Global perspective:
Learn abroad how firms operate in different cultures through our Study Tours (3 mandatory + 1 optional) and Electives Abroad (intensive executive courses) in partnership with 15 universities
FT Ranking: 20
FT Ranking Global MBA: 21
Economist FT Mba RANKING: 46
Financial Times Ranking US MBA: 32
Forbes Ranking Domestic MBA: 33
US News World Report Ranking MBA: 34
Class Size: 187
Female Percentage: 29
Course Length: 12, 15, or 18
Employed Graduates Percentage: 90
Salary Increase Percentage: 120
Average Gmat: 665
Course Fee: € 68,500
Accredited: AACSBAMBAEQUIS
Aspen Inst Ranking: 12
Average Age: 28.6
Average Work Years: 6.1
Nationalities Count: 48
Businessweek Ranking: 44
Facts
4th Best Programme in Europe for Salary Increase (Financial Times 2019)
#7 Best Program in Europe (Financial Times 2019)
Optional Spanish language lessons are included in the programme fees
#1 Best MBA for women in Europe (Financial Times, 2018)
Labs, Career Acceleration Programmes, Study Tours and Treks
Esade Business School
Esade's MSc Programmes in Management are innovative one-year programmes delivered entirely in English at the Barcelona-Sant Cugat campus for recent graduates who are starting out on their professional career. There are seven different Master of Science programmes:
Work in multidisciplinary groups on big data and data analytics projects, develop data analytics projects using Python and R, design big data and data analytics projects including Spark and AWS and gain specialist understanding of how big data and data analytics are used in finance, marketing and retail.
Master the essential tools and concepts, and learn to harness the power of cutting-edge technology and data-analysis techniques. Develop core skills that empower you to add value anywhere in the financial sector. And build a network of contacts on every continent.
Master in Global Strategic Management
Study an MSc with an even greater international twist, by splitting your programme between Lingnan in Guangzhou (China), McIntire in Virginia (USA) and Esade in Barcelona.

Master in Innovation & Entrepreneurship
At Esade entrepreneurship and innovation are part of our DNA. Challenge assumptions, build a disruptive mindset and deliver the tools, insights and skills to unlock creativity, invention and innovation.
Master in International Management
Join an international community of academic excellence, learn from leading thinkers in international business research, gain deep insight into how business is done differently all over the world. And the megatrends, the strategies, the international bonds and relations that are set to reshape global business in the coming years.

Master in Marketing Management
Accelerate your professional future success. While giving you a solid foundation in theory, the programme takes a highly practical, hands-on approach that exposes you to international marketing best practices in action.
Master in Management of Disruption **NEW**
This is a management programme designed specifically for students with a STEM degree, in order to overcome the challenges and bridge the gap that technical students face when they want to make a career change. With this programme, we will provide you with the management tools you will need to succeed, and we will emphasise on the communication and soft skills that are so necessary in the corporate world.
As a founding member of CEMS and the only participant in Spain, Esade offers highly motivated students the opportunity to obtain two renowned international degrees, combining an Esade MSc in Management degree with the CEMS MIM
Participants enrolled on any of our MSc Programmes (excluding the MSc in Global Strategic Management) can also opt to take a double degree.
Become an expert: Focus by choosing your programme, specialisation and track.
Become a professional: Get ready for the real world with business challenges and hands-on methodology.
Experience the world: Diverse classmates, international internships and study tours abroad.
Maximize your talents: Push yourself and learn alongside the best.
Change your life: Lay the foundations for future success.